Logo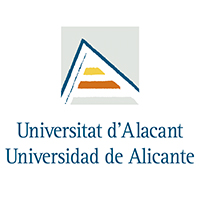 The University of Alicante (UA) was founded in 1979. Being one of the youngest universities in Spain, the UA is also considered one of the most innovative and fastest developing in Spain. More than 30.000 national & 3.000 international students are enrolled in 7 Faculties offering more than 39 undergraduate and 78 postgraduate
programmes. The UA is considered to be a point of reference for many companies to which it provides technical assistance, student training programmes and continuous programmes and has participated, as partner or coordinator, in a large number of international projects. It has a wide network and cooperates with universities and other stakeholders from over 90 countries worldwide. 
UA has implemented a solid system of Innovation Support Measures: Research Promotion and Technology Transfer Office, Innovation Unit, and International Project Management Office, with a department on Intellectual Property (IP) & Knowledge Transfer at the transnational level.
A total of 220 research groups are pursuing high quality research in varied fields of expertise. High quality research is also undertaken in the UA's Research Institutes, including the Multidisciplinary Institute for Environmental Studies, the University Institute of Water and Environmental Sciences, the University Institute of Materials or the University Institute of Tourism Research. 
The University Institute of Tourism Research-IUIT at the University of Alicante was created in 2006 and at present has a long trajectory on tourism planning and management. One of the main research topics is Analysis, Planning and Management of Tourism Development. From assumptions of sustainability and competitiveness for local and regional systems, special attention is paid to the relationship between tourism and configuration of destination spaces, integration of tourism in the development model, tourism implementation and resource management, reorganization processes and renovation of tourist areas, strategies and public policies for the development of tourism and design of tourism and leisure products.
Spain