Image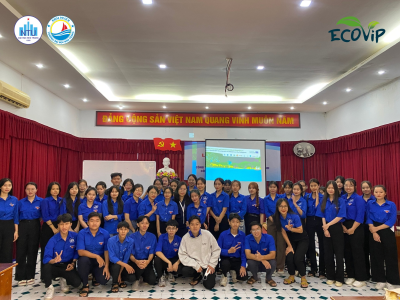 September 17, 2023, as part of the Youth Union of the Faculty of Tourism's Green Sunday program, the Union introduced the Project " Fostering Innovation and Entrepreneurship in Ecotourism to support sustainable development in Vietnam and the Philippines" (ECOViP) to the representatives from first-year to final-year classes of the Faculty (K62, K63, K64, K65). This project is financially supported by The European Education and Culture Executive Agency (EACEA) of the European Commission. With the span over a duration of 3 years, its goal is to foster entrepreneurial and innovative capabilities in the tourism industry in Vietnam and the Philippines, provide benefits that improve learning programs, and enhance students' employability skills through collaborative efforts with businesses.
This initial session served as an informative introduction to the project, its objectives, training courses, and core activities, particularly the upcoming competitions and ecotourism boot camps in 2024 and 2025 in Vietnam and the Philippines. Additionally, this offers students a unique opportunity to exchange insights regarding local ecotourism initiatives and topics relating to sustainable development.
In the future, the ECOViP Project intends to expand its array of activities to engage and provide support not only to tourism major students but also to students from various other academic disciplines who share a passion for venturing into the tourism business arena. This endeavor aims to foster greater participation in the ECOViP Project's initiatives and contribute significantly to the execution of the proposals.