Image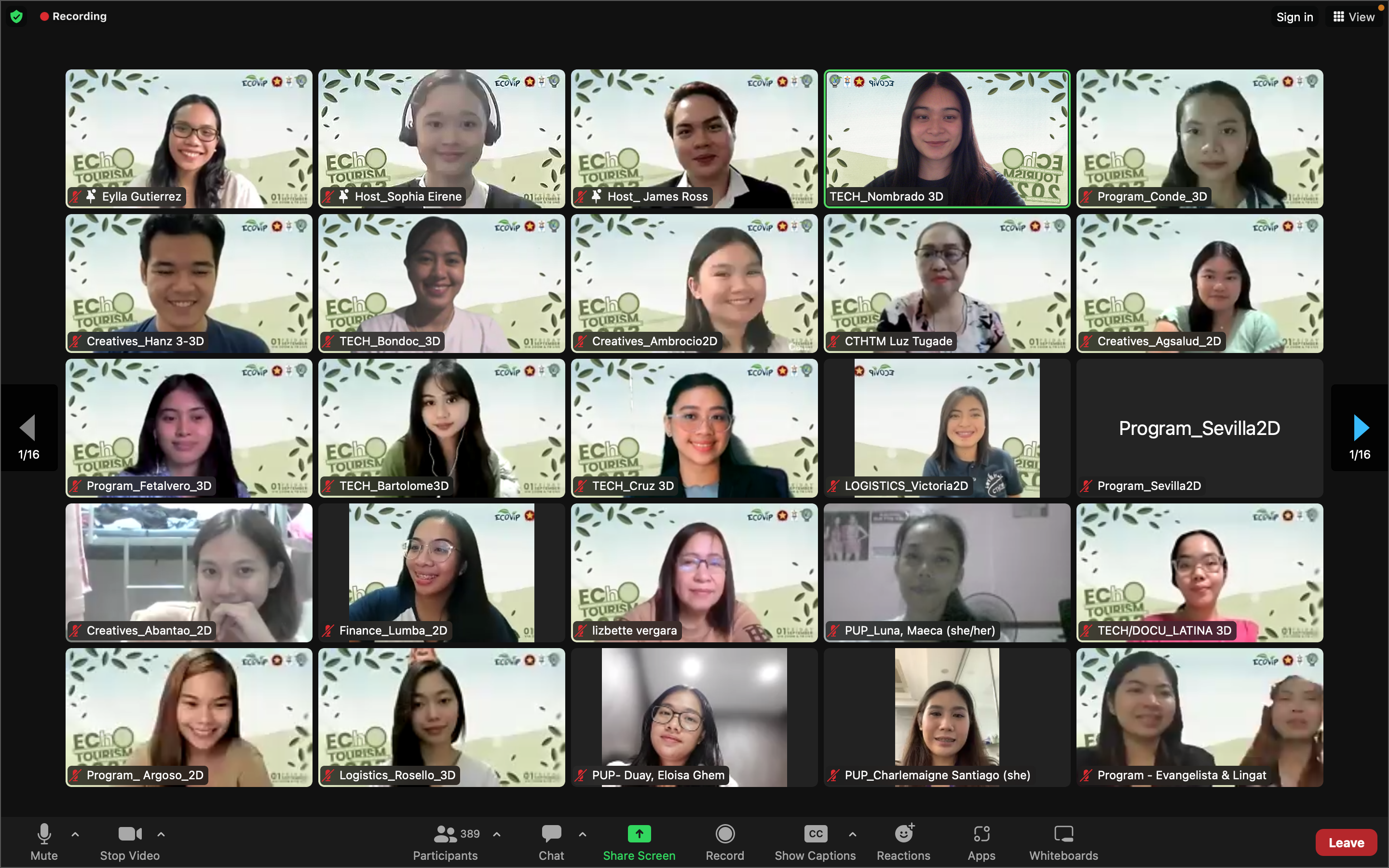 PUP Eco-InnovaTours, an organization created by the 3rd Year Tourism Management Students of Polytechnic University of the Philippines - Sta Mesa, successfully launched Eramus+ project, ECOVIP last September 1 and September 4, 2023. 
The aim of the event was to showcase entrepreneurial ecotourism projects and promote sustainable development in the Philippines, while creatively and collectively having fun. The event was divided into three phases:
Phase 1 included an Online Webinar Forum titled "EchoTourism 2023: Resounding Entrepreneurial Trends and Initiatives in Ecotourism Horizons," featured speakers from diverse fields who shared their expertise in developing interdisciplinary ecotourism projects, enhancing participants' entrepreneurial skills. 
Among the speakers were Ms. Brenette Abrenica, Director of External Relations and Internationalization at the University of San Carlos; Ms. Elylla Laire Gutierez who co-authored Implementing an Ecotourism Strategy in the Philippines; and Ms. Sofia Lopez Galvez, co-founder and CEO of Tagpuan Camp and Eco- Park in Tanay, Rizal and was crowned Miss Philippines Earth Eco-tourism in 2021.
Participants were also asked what are the valuable insights they received from the webinar. 
"Sustainable Practices, one of the key insights in eco-tourism is the growing emphasis on sustainable practices. This includes reducing carbon footprints, conserving resources, minimizing waste, supporting local communities, and preserving natural habitats. Many eco-tourism businesses are adopting sustainable initiatives to offer travelers an eco-friendly experience. Collaboration and Partnerships, between various stakeholders, including governments, tourism operators, local communities, and conservation organizations, is key to promoting eco-tourism. Webinars often highlight successful collaborations and partnerships that have led to positive environmental and socio-economic outcomes. Remember, the insights you gain from specific webinars may vary depending on the theme, speakers, and discussions held during the event. It's always beneficial to attend these webinars to gain first-hand knowledge from experts in the field of eco-tourism."
Phase 2, was an online quiz bee competition called Questurismo: Wandering through the Wanders of Tourism was organized, a friendly competition where participants showcased their knowledge and skills in ecotourism. And the last phase, 
Phase 3 "The Greenprint: Masterpieces of a Sustainable Tomorrow," was a poster/slogan making contest was planned to showcase the talents of students and their take about ecotourism.
For the Quiz Bee and Poster/Slogan Making Contest, a total of 49 students have participated in both contests from different universities in Manila. These students are all taking up Bachelor of Science in Tourism Management. Students from each university were invited by the organizers to showcase their wits and talents for our contests.
1. WCC Aeronautical and Technological College
2. National University
3. Philippine School for Marine and Medical Access
4. Philippine State College of Aeronautics
5. University of the Philippines Diliman
6. Quezon City University
7. Lyceum of the Philippines University Manila
8. Bestlink College of the Philippines
9. Cavite State University - Don Severino Delas Alas Campus
10. City College of San Jose Del Monte
11. Valenzuela Polytechnic College
12. Our Lady of Fatima University - Valenzuela
A total of 700 students participated in all the three phases of Eco-Innovatours' launch event.